I am not a college graduate. I was content to be a wife, mother, and homemaker, but four years ago my life changed course. Two events led me into business: the passing of my husband, Larry, and becoming sole owner of a large group of businesses.
Today I am responsible for one of the ten largest, privately owned automotive groups in the country. Last year I represented Utah as Time magazine's Dealer of the Year. In 2009 Larry, who had just passed away, and I were named entrepreneurs of the decade by MountainWest Capital Network. That same year I was named Utah's most influential person in sports as owner of the Utah Jazz.
I oversee the Larry H. and Gail Miller Family Foundation, which funds the Joseph Smith Papers Project, and I am president of more than eighty companies. I have two honorary doctorate degrees. I am vice chair of the board of trustees of Salt Lake Community College. I am a member of the President's Leadership Council at BYU, and I serve on the National Advisory Council at the University of Utah. I have a Silver Beaver Award from the Boy Scouts of America, and I have the final say on who plays for the Utah Jazz.
But I never planned to be a businesswoman.
learning from the Past
I was born shortly after the end of the Great Depression, the sixth of nine children. Being born in that time meant our family was poor—everyone was poor. Sometimes we had to move our one lightbulb from room to room. Money was scarce and so was food.
My father was a shoemaker and later a salesman. It was difficult for him to make a decent living. With nine children, my mother never worked outside of the home. She never drove a car. She taught me early to make my own clothes and cut my own hair.
Because of my humble circumstances I had numerous opportunities to develop talents, to learn problem-solving skills, and to exercise patience. I learned to make the most of what I had.
I consider the circumstances of my upbringing one of the major blessings of my life. The many things I learned prepared me for the life I was to live. This is a truth for all of us. The experiences of our lives prepare us for the future. It's important we pay attention along the way.
Even though my family was poor, I learned there were many things in life more valuable than money. If I had sufficient for my needs, that was enough. Money was not then—and never has been—a driving force in my life.
The first and only real job I had on my own was with Mountain Bell Telephone Company. I was a senior in high school and worked as a telephone operator. I loved it. My father had a stroke the year after I started, and I suddenly became the only source of income for our family. I dropped out of the University of Utah to take care of the household and a younger brother and sister, and I never went back to school.
I willingly accepted the responsibility that had fallen upon me, and after several months in the hospital in California, my father was able to come home. My mother took care of him until he died two years later.
Moving Forward
Just before my father died, Larry and I decided to get married. That is, I decided to get married, and I asked Larry if he wanted to join me. We'd talked about marriage before, but he was a slow learner and hadn't gotten around to asking me. After six years of dating, I took matters into my own hands and asked him.
With our marriage we were making a declaration of independence. We had each other, and we were determined to make things work on our own.
After a few years of living in Salt Lake, we decided to move to Colorado to better our lives. It was there that we learned how to prepare for the future.
When we moved, we had two children and another on the way. Larry realized he needed to provide a good life for us. He began working crazy hours, and our future was looking good financially.
We were living within our means and putting money away for the future by making investments in stocks and bonds. Larry had received several promotions. He started as a parts manager and moved up to be the operations manager over five dealerships. With each promotion came an increase in pay, which we saved or invested.
About a year after he became the operations manager, our world turned upside down.
The owner, Chuck Stevinson, asked Larry to return to the Toyota store where he started out to teach Stevinson's sons the business. Larry saw the writing on the wall—eight sons, five dealerships. He was certainly willing to be a mentor for these young men, but he could see things were going to be very different than he had planned.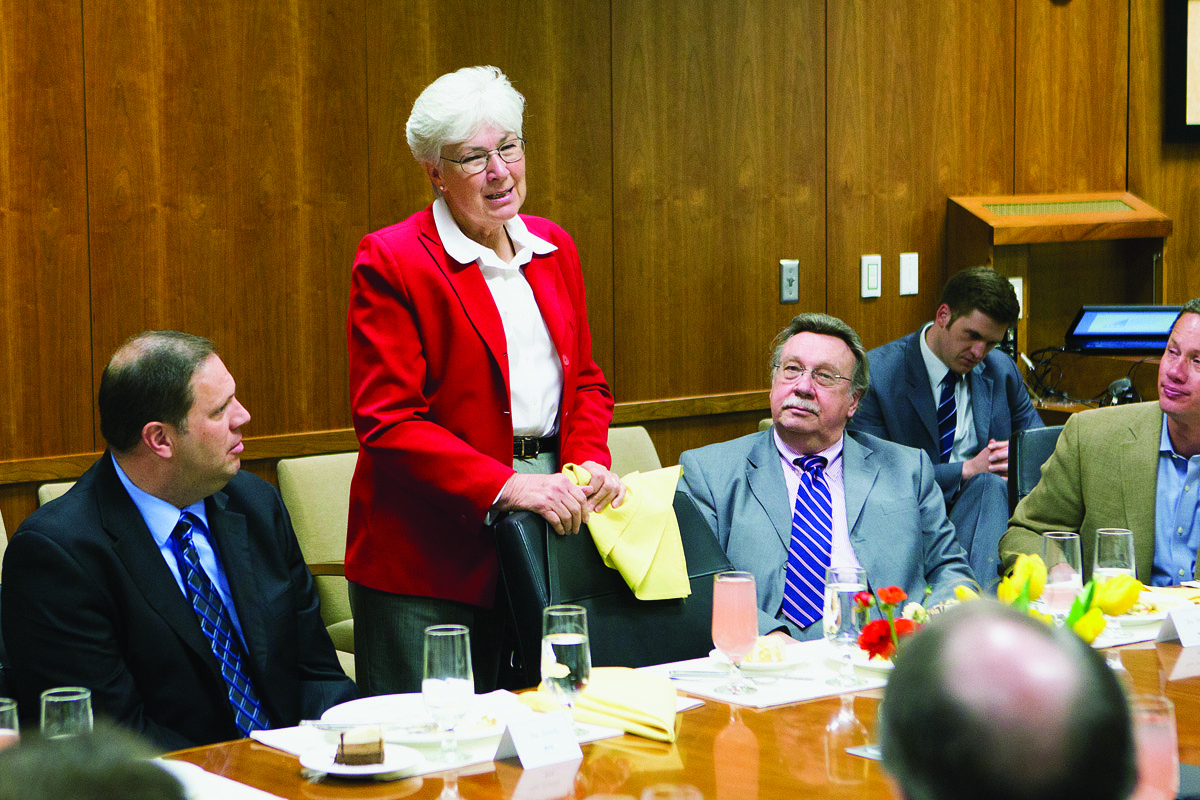 1203-51 020(SWOP).jpg
Jaren Wilkey/BYU
Coming Home
On a parallel track to business, our spiritual lives were also changing. When we moved to Colorado, we had not been active in the Church. Both of us were raised Mormon but had become inactive.
A few days after moving to Colorado, my five-year-old son said to me, "Mommy, where does God live?" I knew then I had to go back to church with the children. I found a ward and got the boys into Primary.
Soon after, the bishop called and invited Larry and me to come to church on Sunday. It took several years for Larry to find his way back, but the children and I started going regularly from that time on. Little by little, Larry finally agreed to come to priesthood meeting. Eventually he came to Sunday School and sacrament meeting. Then the bishop made his move and asked Larry to take a calling.
At first it was assistant volleyball coach and then coach. When the instructor for the priests quorum moved away, the bishop asked Larry to take that calling.
One day about a year later, the bishop told Larry it was time to receive the Melchizedek Priesthood. Larry said he was willing to discuss that, but he wanted to know how to prepare—he wasn't sure he was ready.
As they talked about the requirements, there were two things Larry had problems with—he said bad words sometimes and he did not pay tithing. They worked out the first to the bishop's satisfaction, and Larry committed to paying tithing. He told me to start paying tithing with the first paycheck in January 1979 and to never ask him about it again. He didn't want a chance to change his mind.
Reaping Blessings
These two parallel but separate tracks converged dramatically in March 1979. We'd been paying tithing for about three months, and Larry's boss had given him what amounted to a demotion.
That next month we came to Salt Lake City for a vacation. During that trip we purchased our first dealership in Murray, Utah. We did that with the money we had saved and invested while we were in Colorado. On 1 May 1979 we began a grand new adventure of being in business for ourselves. Because those two tracks were so parallel, we believed that Heavenly Father was watching over us and guiding our lives.
In March 1980 we took our five children to the temple and were sealed for eternity. It soon became apparent to us that Heavenly Father had a mission and a stewardship for us. Opportunities and doors began opening, and our lives were guided as we sought counsel through prayer each day.
I believe I am who I am today because of my experiences in the business world. Those experiences were built on the foundation of my youth. I've been rich and poor, and I'm still the same person either way. I know who I am and what I stand for.
Building Success
As you begin your career, remember who your real partners are. Heavenly Father wants you to succeed. He will always be your partner. He will be there to guide you. All you have to do is invite Him to do so.
Your other partner is your spouse. Larry prepared me for my current role by sharing with me every day. I learned everything I know about business from him, and I was ready when the time came for me to step in. Even though I don't run the day-to-day operations, I have valuable institutional knowledge that has allowed me to be a bridge between Larry and our son Greg, who is the current CEO, and to be a valuable resource for other employees.
Building a successful business has been quite a journey. Many lessons have been learned along the way. The most important lesson I've learned is about money. Whether you're successful or whether you fail and start over, don't let money change who you are. Always keep it in perspective.
Larry used money like a report card. He felt it was a measure of how he was doing and a tool to do good. It fact, he often said, "Go about doing good until there's too much good in the world."
You also need to be resourceful. Use your talents and develop new ones in the process. There's no limit to the talents you can have. God will help you when you help yourself.
Be independent. Take responsibility for yourself. Live your life on purpose. Do something you want to do—something that makes you happy.
Be prepared when opportunity comes your way by being frugal, but also be prepared for disappointment, because it will surely come. We've had our share. Don't be afraid to fail. You can always start again, and you'll be stronger for the experience.
Give serious consideration to what it means to be a steward and to help those who can't do for themselves. Give back, pay it forward, and do at least one good thing every day.
These are the driving principles that make up the foundation of success: pay your tithing, pay your taxes, build your resource base by reinvesting in your business and in your life, and always be a good steward.
_
Convocation address given by Gail Miller
Photography by Bradley Slade, Mark Philbrick, and the Miller family
ABOUT THE SPEAKER
Gail Miller is the owner of the Larry H. Miller Group of Companies, which includes car dealerships, sports and entertainment ventures, restaurants, insurance and advertising businesses, and several charities. This text is taken from remarks she gave at convocation on 26 April 2013.