As hand-cut steaks sizzle on the grill, Trevor Mecham is up to his elbows in a pile of sweet potato fries. In the oven a sheet of enormous cinnamon rolls–each roughly the size of a dinner plate–awaits a schmear of sugary-sweet frosting.
The spiced aroma temps guests of the Tamarisk Restaurant. Mostly road-trippers, ordering hearty meals under a glowing sign that spells out the diner's ethos: rural & proud.
Running a roadside diner isn't a pit stop in Mecham's career. It's the destination.
Mecham, a 1989 information systems grad, is the chef at the Tamarisk—a bona fide institution in Green River, Utah—and a part-owner. After beginning his career in the food industry, Mecham left to seek a college degree—and, surprising himself, brushed off opportunities in tech to return to the restaurant business. He brought his Marriott School education along, innovating and upgrading the small-town eatery through two major overhauls.
The middle of nowhere has never tasted better.
Palate Pleasing
Sitting alongside southern Utah's Green River—the landmark that lends its name to the town of less than one thousand—the Tamarisk serves up Americana on a plate. The menu is stacked high with southwestern specialties, paninis and fries, classic burgers served on house-made bread, and hearty entrées with names echoing local color: Butch Cassidy (a St. Louis–style steak), Goblin Valley (fried cod), and the San Rafael Swell (grilled chicken).
The haunt of locals and the occasional celebrity (Alan Rickman, Tim Allen, and Ernest Borgnine visited while filming in the area), the Tamarisk is primarily a stop for tourists seeking the world-famous red arches of nearby Moab.
"You can hear foreign languages from everywhere," Mecham says. "French, German, Scandinavian—I've met people from all over the world."
And regulars and newcomers alike have been delighted by the Tam's recent makeover—thanks to its change in ownership.
Next Course
After two decades managing the Tamarisk's kitchen, Mecham felt himself drifting apart from the owners. The aging Tam needed improvements, but he felt powerless to bring new life to the eatery. He looked elsewhere and secured a position teaching business at the local high school.
Then a phone call changed everything.
Josh Rowley, a longtime friend from Green River, had an interesting proposition. He and Nick Derrick, both living in Salt Lake City, wanted to join Mecham and his wife, Allyson, in purchasing the Tamarisk. Mecham was shocked—the owners hadn't bothered to let him know the Tam was for sale. He knew Rowley and Derrick had a great vision for the place, but neither had worked in the industry before; they needed Mecham's expertise. After discussing the possibility with Allyson, Mecham realized he wasn't ready to give up on the Tamarisk. Together the four formed a partnership and leapt into ownership in early 2014.
First on the menu: a face-lift. The restaurant opened in 1979 and still had the décor to match—jewel tones, wood molding, oak chandeliers, green industrial carpet, even stuffed dolls. "I'll be honest; it looked like you were eating in Grandma's pantry," Mecham says.
Along with replacing outdated furniture and dining ware, the partners installed dark floors and subdued lighting—single bare lightbulbs dangle over the bright wood-topped tables, now surrounded by turquoise and metallic seating. Murals depicting local landmarks—Wild Horse Canyon, Goblin Valley, Black Dragon Canyon—tout local pride, while a wall of windows overlooks the Green River below. Mecham updated his classic recipes and developed new menu items, including a kiwi strawberry salad and a turkey bacon panini, now best sellers.
Business is up 35 percent per month and growing. After the first summer Mecham was certain the Tam had hit its peak. "And the next summer, sure enough, we were even busier," he says. Visitors sing the Tam's praises online; it's rated No. 1 on Yelp and Trip-Advisor. Pretty good, says Mecham, since "the British customers have high expectations."
Made from Scratch
Mecham was eleven when his family—parents, two brothers, and a sister—moved to Green River. Immediately his mother started getting phone calls: "Do you have any kids who want to work?" Help is hard to come by in a small town.
That's how Mecham got his first gig, washing dishes at Lemieux Café. He soon transferred to another restaurant to work with a buddy, but Mecham was disgusted to find himself washing dishes in a sloppy, dirty kitchen. "I worked really hard to clean everything, and one night the manager's wife walked through the kitchen and said she had never seen it this clean," he remembers. The next week, Mecham was promoted to cook: "I was in heaven."
He perfected his skills on the job, picking up tips and tricks from experienced chefs. He cooked through high school and at age eighteen moved to Ticaboo, Utah, a small community outside Lake Powell, to manage his first restaurant. But the winters were slow, and Mecham didn't know how many off-seasons he could endure. One night he and a few friends hatched an escape: "We all challenged ourselves to go to college," Mecham recalls.
The next fall Mecham enrolled at Dixie State in St. George, Utah, becoming the first in his family to attend college. After two years he transferred to BYU, where he discovered a passion second to cooking: technology.
16-075_Slade_20160317_Tamrisk_991FamCombined(SWOP)2.jpg
16-075_Slade_20160317_Tamrisk_576B(SWOP).jpg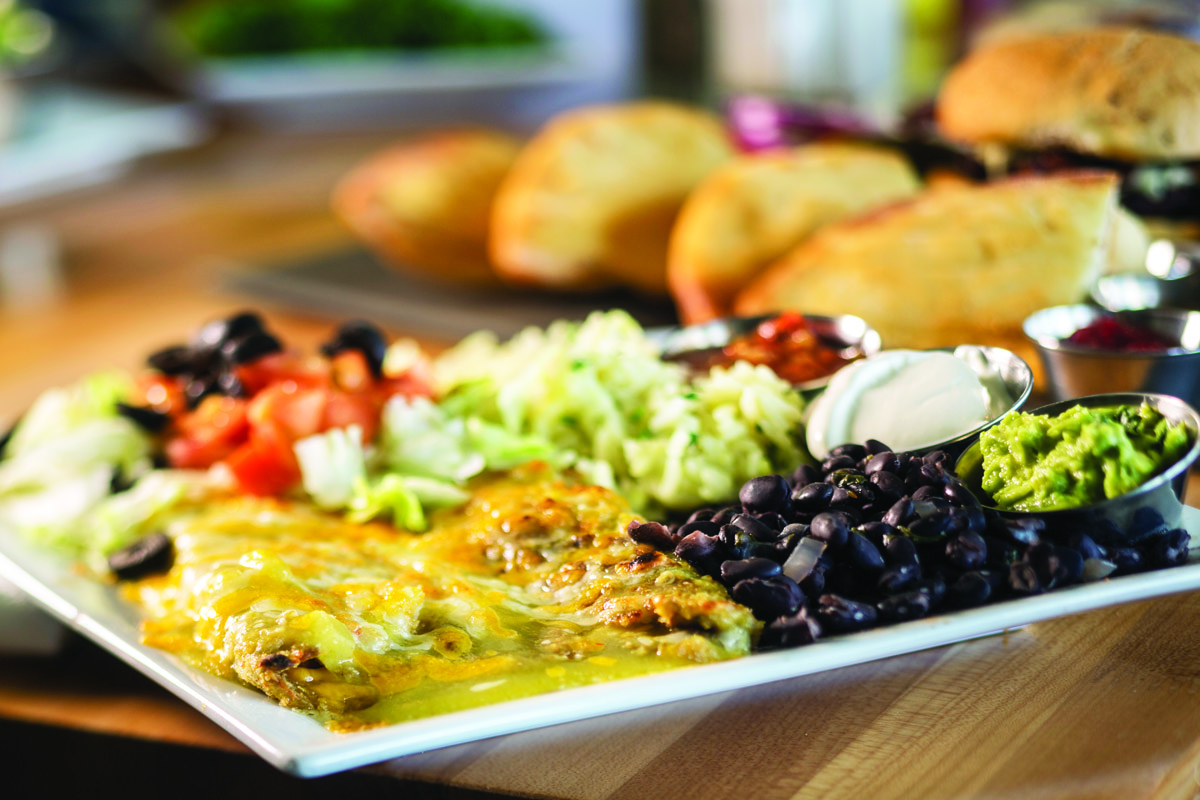 16-075_Slade_20160317_Tamrisk_589B(SWOP).jpg
16-075_Slade_20160317_Tamrisk_581B (SWOP).jpg

"I was fascinated with computers and information systems, and—it sounds so silly now—WordPerfect," says Mecham. "You could change your text and everything without redoing the whole thing." When he discovered the Marriott School's newest major—information systems—he knew he was in the right place. Mecham studied hard during the week and paid his tuition by working weekends in a kitchen.
Mecham planned to build a career in information security—until he got a call from the Tamarisk's manager, who "practically begged me to come help him run it," Mecham says. The manager talked with money, too—the offer was one of the most attractive Mecham received, and there was some comfort in returning to the familiar.

Order Up
Before accepting the job, Mecham had one condition: he wanted to make a few upgrades.
"The first thing I did was computerize the ordering system," he says. "They were still tracking orders by hand. With what I learned at BYU, I was able to install a new network—the change was like night and day." Mecham then set his sights on the menu.
He started sourcing better ingredients, including fresh fish and hand-cut steak, and added full breakfast, lunch, and dinner buffets. "It was the early nineties," Mecham explains, "and buffets were the big thing. It did amazingly well."
Today Mecham regularly uses his management education. "With the accounting that I learned, it was easy to do the books for the food and labor costs," he says. "You need to keep track of everything in a restaurant because the profit margin isn't that big." One of the problems he's tackled is a labor shortage. To help retain waiters, Mecham and his partners decided to keep the Tam open during the winter, though he admits profit margins would be higher if he didn't. A good, consistent staff is more important in the long run, though.
Mecham still spends much of his time in the kitchen, perfecting a new recipe or serving up orders through the afternoon rush. His specialty? "Anything Mexican," he says. In preparation for this summer, Mecham is spicing up the Southwest-inspired offerings, which range from street tacos to smothered Navajo bread. He's also developed a quicker method for chile relleno. "We roast our own green chiles, peel them and bread them like chicken-fried chicken, and then grill them until they're crispy," Mecham explains. "We got one of our best compliments this whole past summer from a lady who just loved them."
Mecham's also proud of his famous T-roll—a giant's portion of a cinnamon roll. "One time I got feeling guilty that they are so big, like people who eat them are going to go into a diabetic coma," Mecham says, laughing. "I tried to make them smaller, but everybody got angry."
Locally Grown
Returning to his hometown may not have been in the plans, but Mecham couldn't imagine any other life. "I am really happy with the decision," he says. "The restaurant is doing well, and my family is doing well."
When Allyson Mecham first visited Green River with her husband, she was unimpressed: "Please don't make me live there," she implored. Allyson had grown up in Phoenix, so when she and Mecham ended up moving to Green River, it was a tricky transition. But the isolated town grew more beautiful as it became home. Green River is a great place to raise kids, the Mechams agree, with a tight-knit community and outdoor adventures around every corner.
Trevor and Allyson met as BYU students—after Allyson's friend had asked Trevor out and then introduced him to Allyson as the "cool guy" she was into. From that point, the Mechams had eyes only for each other. "It wasn't very nice of us, but it happens," Mecham laughs. They welcomed their first son, Wayde, a month before graduation, and four more children followed once the family moved to Green River.
Mecham's oldest children—two of his sons and both daughters—followed his footsteps in becoming college students, all at the University of Utah. "Where did I go wrong?" Mecham jokes.
The restaurant life proved surprisingly flexible for Mecham as a father. "The work was very demanding," he says, "but I haven't missed out on anything for my kids—I was able to go to all of their basketball games and that kind of thing."
And all the kids have worked at the Tam; the youngest, fourteen-year-old Zack, just started washing dishes. "They all moved up the ranks," Mecham says, with the older kids waiting tables. They grumbled a bit about it, he adds, but less so when tips piled up. "I really enjoy working with my family," Mecham says. "My wife used to tell me that I was more like my kids' friend instead of their dad, but that can be good; I have a super close relationship with all my kids, and I like that."
The local community also proved to be a great support in good times and bad—like the night when Wayde, then sixteen, began to fade in and out of consciousness. A mysterious infection landed him in a coma at Primary Children's Hospital in Salt Lake City. That's when the Mechams' close-knit hometown rallied for one of its own, raising enough money to cover all the medical expenses and start a college fund. "That's what comes to mind when I think about Green River," Mecham says. "People help you out when things go wrong. I will never forget it."
Rural & Proud
In the restaurant business, the work is never done. There are more hungry people to feed, more dishes to wash, and, at the Tamarisk, more renovations to complete, including a river-facing deck where visitors can dine alfresco. New this summer, tourists can rent guestrooms below the restaurant. The staff is also getting a digital upgrade; iPads are helping waiters track orders and run credit cards more efficiently.
Mecham has often been asked by visitors surprised by the Tam's quality why he doesn't just move it from "nowhere" to "somewhere"—out to a big city where it can get more consistent, local traffic. He's flattered by the sentiment. But Mecham likes serving tourists, and he's not looking to leave the tranquility of Green River any time soon.
Running a roadside diner isn't a pit stop in Mecham's career. It's the destination
_
Article written by Sara Smith Atwood
Photography by Bradley Slade