Jennifer Rockwood stepped onto BYU's South Field and gazed numbly across the green turf. "What have I gotten myself into?" she recalls thinking. "Can I really do this?"
Her years of experience playing and coaching soccer—including six years at the helm of the BYU Women's Soccer club team—suddenly seemed insignificant beside the challenge that lay ahead.
It was 1995, and Rockwood had just signed a contract to become the inaugural head coach of the newly sanctioned NCAA Division I BYU Women's Soccer program—at the highest level of intercollegiate athletics—despite having no prior Division I experience.
Drawing a deep breath, the fledgling head coach set to work.
Twenty-two seasons have passed since Rockwood's appointment, and her undeniable success includes fourteen conference championships, eighteen NCAA tournament appearances, and an overall record of 355-100-38.
While her accomplishments are remarkable, even more so is the path that positioned the 1989 Marriott School grad to achieve them.
"I'm pretty sure in today's world my scenario would not happen," Rockwood says.
Always ready for a challenge, Rockwood has seen a pattern in her life of receiving unexpected opportunities, growing to meet them, and then receiving more.
Dashed Dreams
Rockwood has always had a passion for athletics, but soccer wasn't necessarily her sport of choice growing up. She was born in Provo and raised in Lake Oswego, Oregon, with four younger brothers. In addition to playing soccer, she was a frequent participant in basketball, track, and softball.
BYU stood at the top of her list when college admissions rolled around; it was her parents' alma mater, and she had attended basketball camp there. Her dream was to play on the women's basketball team, but she knew reality was unlikely to cooperate.
"I was pretty good at basketball, but I was short for how I played," she says. "I didn't have the height to play to my strengths, and I didn't have the skill to play to my height."
A visit to the basketball tryouts for Ricks College landed her a spot on the team there as well as a scholarship offer. Rockwood decided to give the junior college, now BYU–Idaho, a shot.
After one year—including a frigid winter—in Rexburg, Idaho, Rockwood made the leap to BYU. Certain she still wouldn't be able to make the basketball team, she instead took a spot on the club soccer team, which at the time felt to her like a bit of a concession.
But the Division I Women's Soccer team was only nine years from its formation, and Rockwood had unknowingly started on a path that would position her to take the lead.
Up for a Challenge
At BYU, Rockwood found herself drawn to the Marriott School, where she did well in accounting and other premanagement courses. She decided to pursue a bachelor's degree in business management with an emphasis in finance, in part because few women were in the program, and she wanted to see if she could rise to the challenge.
"I didn't necessarily get the best grades," Rockwood says of those tough upper-level classes, "but I took pride in working as hard as I possibly could and making it through."
Much of the challenge lay beyond the coursework, however, as Rockwood also fought inner battles each day.
"I was very shy," she says. "I used to panic in my finance classes when they would be looking to call on someone to do a presentation or share a thought. But it forced me to be prepared."
Though her scholastic path presented challenges, she says those experiences enabled her to achieve greater success down the road.
"That major put me in positions where I was uncomfortable and forced me to do things beyond what I thought I could do," she recalls. "It's helped prepare me in everything I've ever done, especially being involved in coaching."
While Rockwood was tackling her business degree in the Tanner Building, she was also picking up additional training around the practice field. During her junior and senior years, she assisted the club soccer team behind the scenes in areas such as scheduling and budgeting, gaining a preliminary sense of the ins and outs of BYU sports administration.
16wSOC at Utah 1265 (DONE).jpg
Jaren Wilkey/BYU
16wSOC NCAA vs Oklahoma 0101 (DONE).jpg
Jaren Wilkey/BYU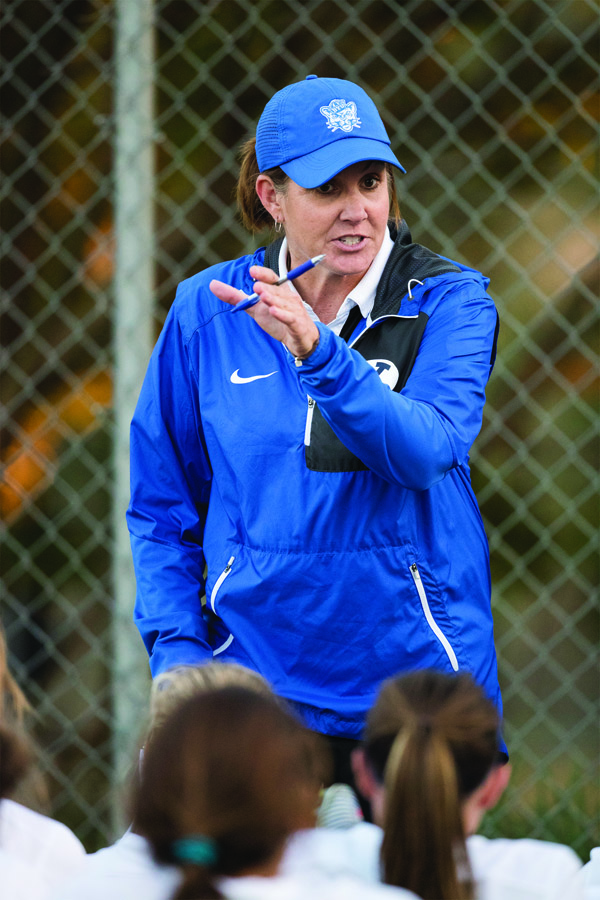 16wSOC NCAA vs Oklahoma 1662 (DONE).jpg
Jaren Wilkey/BYU
16wSOC vs Long Beach State 832 (DONE).jpg
Aaron Cornia
Learning on the Job
As graduation approached, Rockwood found herself at a crossroads. Both a mission and an MBA crossed her mind, but then she was offered a position as a coach and PE teacher for a local college-prep academy called the Waterford School.
"I took that opportunity to see where it would lead," she says.
At Waterford, Rockwood taught seventh- and eighth-grade PE classes and coached the high school girls soccer team. When the school announced plans to move to Sandy, Utah, and a new school called Meridian was established in Provo, Rockwood hesitated over her next move—but not for long. Meridian made her a full-time teaching offer, and BYU asked her to coach the club soccer team she had so recently left. She happily accepted both offers.
"[BYU] came to me because I had kind of been the boss, in a sense, of the team before that," she says. "Within a three-day period, I was asked to be the club coach and I was asked to stay on and teach full time at Meridian. So, I decided, 'What have I got to lose? Let's try it out.'"
After three years of teaching PE for Meridian, Rockwood went to the headmaster and asked for a chance to try teaching in the classroom. She had considered getting a degree in education when she first came to BYU, and she had taken a slew of humanities classes as an undergrad—"I probably had enough for a minor, except I didn't speak another language," she says. She was soon leading classes in math and history. She hustled to stay ahead of her students, reviewing all of the course material at home to make sure she was well prepared.
Before long, she was made a middle school supervisor for curriculum, discipline, and activities, and she gained greater influence in the school's athletics program. In addition to launching the high school sports program at Meridian and coaching both the boys and girls soccer teams there, she became the athletic director for the junior high.
"I remember going up to the Utah High School Activities Association with other athletic directors," she says. "There were all these older guys and me, and I was, like, twenty-three. I just had the chance to be in a leadership position at a very young age, having no experience and learning as I went."
A Sanctioned Sport
Rockwood led the BYU Women's Soccer club team for six years, achieving an overall record of 128-25-9. Then, in 1995, the university officially sanctioned Division I Women's Soccer and began searching for someone to head up its new team.
Knowing she didn't have any Division I experience and not expecting to get the position, Rockwood applied, thinking, "If I get it, it was meant to be; if not, I'll just keep teaching."
BYU had veteran coaches running its women's athletics, but soccer was a young sport in the state at the time, and Rockwood's experience with the club team set her apart. Before long, she was accepting an offer.
"I personally feel I was in the right place at the right time," she says. "I was young, I was cheap, and I had been here, so I knew a little bit about the soccer community."
Though intimidated by her new role, Rockwood didn't break stride, taking on the new challenge in the same way she always had: by working her hardest.
"I've always had a work ethic, and I was always very competitive," she says. "I expect to be the best, and when I'm not, I try to learn how I can be better."
Another important step for Rockwood was surrounding herself with mentors who inspired and believed in her, including women's tennis coach Ann Valentine, who was her supervisor for a time, and women's volleyball coach and women's athletic director Elaine Michaelis. They provided Rockwood with insights into team management and leadership development, lobbing her encouragement along the way.
At first, Rockwood's coaching strengths didn't lie so much in the technical and tactical aspects of the game, so she focused her energy on creating a positive environment in which to build her players' confidence—as well as her own.
"I didn't really believe a lot in myself the first few years," she says. "So much of the time, we need that little spark to keep us going."
Coaching Dilemmas
Now after more than two decades in her position, Rockwood has met and overcome numerous struggles. But some persist, and one she faces on a continual basis is dealing with criticism.
"Our profession is out there for everybody to critique," she says. "Everybody knows more than you do about your job. Parents and players being disgruntled in decisions that you make becomes very challenging."
Rockwood says the key is in recognizing you can't control what other people say or how they act; you can only control how you react.
Her schedule is busy and almost never-ending. Unlike basketball and football, soccer doesn't adhere to a recruiting calendar; Rockwood may be traveling any given weekend to watch prospective athletes.
Recruiting takes a special toll on her because along with the pressure to nab students who will best fit the team's needs comes the knowledge that her decisions will leave many players and parents—some of whom she's known for a long time—bitterly disappointed.
"One of the challenges for me as a coach is knowing that I can make a lot of kids really happy by recruiting them but that I also ruin dreams," she says. "That's something I have struggled with over the years."
Along with that comes the challenge of determining who will play and how much. Those decisions can emotionally drain Rockwood as she sometimes sees her players begin to question their ability and confidence.
"I hope I can bring [players] in to where they have an amazing experience whether they play a lot or not," she says. "I try to make sure they feel that they are part of everything we do and prepare them to be great leaders, moms, business people, and coaches for the future. All I can do is try and pass on what I have learned."
Things are even busier once each season is over, Rockwood says, as all the things she must put off throughout the fall catch up to her. And then comes the summer, when she oversees BYU's soccer camps, which bring more than 2,700 children and teens to campus over a period of seven weeks.
"Hopefully, when I deal with these campers, I'm bringing a love for the game, a love for getting better, a love for training on their own, and a love for being kids and being a real teammate and what that means," she says. "Those are the lessons that you take on for your entire life."
Lofty Goals
Will Rockwood ever leave BYU? The question crosses her mind every few years, but she is adamant that if she were to depart, it wouldn't be for another coaching position.
"I feel like I have the dream job," she says. "I just believe so much in BYU and what it has to offer young students and student athletes. There is nowhere I can go where the quality of the kids that I work with would be better."
Besides, she points out, despite everything she and her teams have accomplished over the years—conference championships, tournament appearances, and top-tier rankings—some goals remain unmet.
"We have done everything that most coaches could ever want," she says. "But we haven't been to a Final Four, and we haven't won a national championship."
But if Rockwood's pattern of success is any indication, bringing home a national championship trophy is only a matter of time.
"I'm not here to just win games," she says. "I've been there, done that. I'm here to see how good we can be."
Jennifer Rockwood delivered a BYU devotional address titled "Drawn to the Light" on 15 March 2016. Check it out online at speeches.byu.edu.
_
Article written by Rachel Evensen
Photos by Bradley Slade