The roar of more than thirty thousand screaming fans had just been swallowed by an avalanche of noise from an F-22 Raptor and an F-15 fighter jet streaking overhead.
Hundreds of young cadets marched in unison into Falcon Stadium as a parachutist landed at midfield with the US flag. The pageantry of the Air Force Academy football game was enough to inspire anyone—not that Bart Longson needed more adrenaline on that day.
Longson, a BS management alum, was on the verge of officiating his first Division I college football game and found himself choking back emotion—he couldn't believe he was there.
Perhaps noticing Longson's nerves, the head ref, Karl Richins, gave him one last piece of advice: "Once they kick off, the game will be like any other, so just relax—and don't mess up!"
Longson didn't. That game day in Colorado Springs was the first of many successful Saturdays for Longson, who has parlayed his on-field expertise into working for some of the biggest leagues in college football and, starting this fall, as one of the newest officials in the National Football League (NFL). And his success on the field is just as impressive as what he's done off—including a hard fight through the Great Recession that turned a downward spiral into an entrepreneurial touchdown.
»Gridiron Giant
If you think making it into the NFL as a player is tough, try becoming an official. Of the thousands of football referees in the United States, there are only 122 who don the black-and-white stripes for the NFL, and, like so many of them, Longson started his career at the bottom of the depth chart.
"I started with little kid football and then got involved in working sophomore and junior varsity games, and I got addicted immediately," Longson remembers. "It was so fun to be around the game."
After one season officiating high school games, Longson met Richins, a Mountain West Conference (MWC) football official and the president of the local college officiating organization. Quickly noticing Longson's ability to make the right calls, Richins encouraged him to qualify to work in college football by attending several camps and clinics. After Longson gained more experience in lower division games, he was offered a spot in the MWC in 2005. Working every weekend, Longson assumed duties at the line of scrimmage with responsibility to watch for infractions such as false starts, offsides, illegal motion, and illegal formations.
After five years he moved to the Big 12 before taking a position with the Pac-12 in 2011, where he worked the next four seasons. He officiated on some of the biggest stages in the sport, including several bowl games and the 2015 College Football Playoff Semifinal Sugar Bowl contest between Alabama and eventual national champion Ohio State.
Longson's ability to perform well in high-stakes situations eventually proved too hard for the NFL to ignore. Last year Longson was invited to join a group of twenty-one top college football officials to participate in the NFL's Advanced Development Program. There Longson interfaced with NFL officials, worked a preseason game, and participated in clinics to show that his skills could translate to the world's best league.
Advancing from the NFL's program is no guarantee of a spot, however, so Longson waited, working another season in the college ranks. It wasn't until April that he heard his verdict. "When I saw the number, my heart started racing," Longson says, remembering the New York City area code that popped up on his iPhone.
Quickly walking into the next room and shutting the door on his startled family, Longson answered the phone. On the other end was Dean Blandino, the NFL's vice president of officiating.
"Hi, Bart," Blandino began. "We want to extend an invitation to you to join the National Football League."
Five minutes later Longson returned to his family, beaming. "I'm in!" he announced as everyone cheered.
»Family Dynasty
A career in sports was always on Longson's radar. But as a BYU undergraduate, Longson envisioned himself carrying medical supplies—not a whistle—onto the field.
"I really wanted to go to medical school and get into sports medicine," Longson says. "I even took the MCAT. But I had to study like crazy to get good grades, and sports medicine at the time was super competitive. I eventually looked at myself in the mirror and decided that path wasn't the right one for me."
Instead, Longson followed his family's playbook: own a small business. His father, Lee, operated his own successful commercial heating and air-conditioning company in Eagle, Idaho, where Longson grew up with two brothers and one sister. At home his mother, LeeAnn, taught the family vital character-building traits.
"Seeing my father as an entrepreneur taught me and my siblings that anything is possible," Longson says. "My mom always instilled confidence in us and that has helped me in every aspect of my life."
Those childhood memories, coupled with his experience working at his brother's mortgage company while attending BYU, finally pushed Longson to change his major. He thrived in his classes at the Marriott School, earning a BS in management with a finance emphasis in 1999.
"The education I received in my business classes was top-notch," Longson says. "I came away feeling prepared to compete anywhere."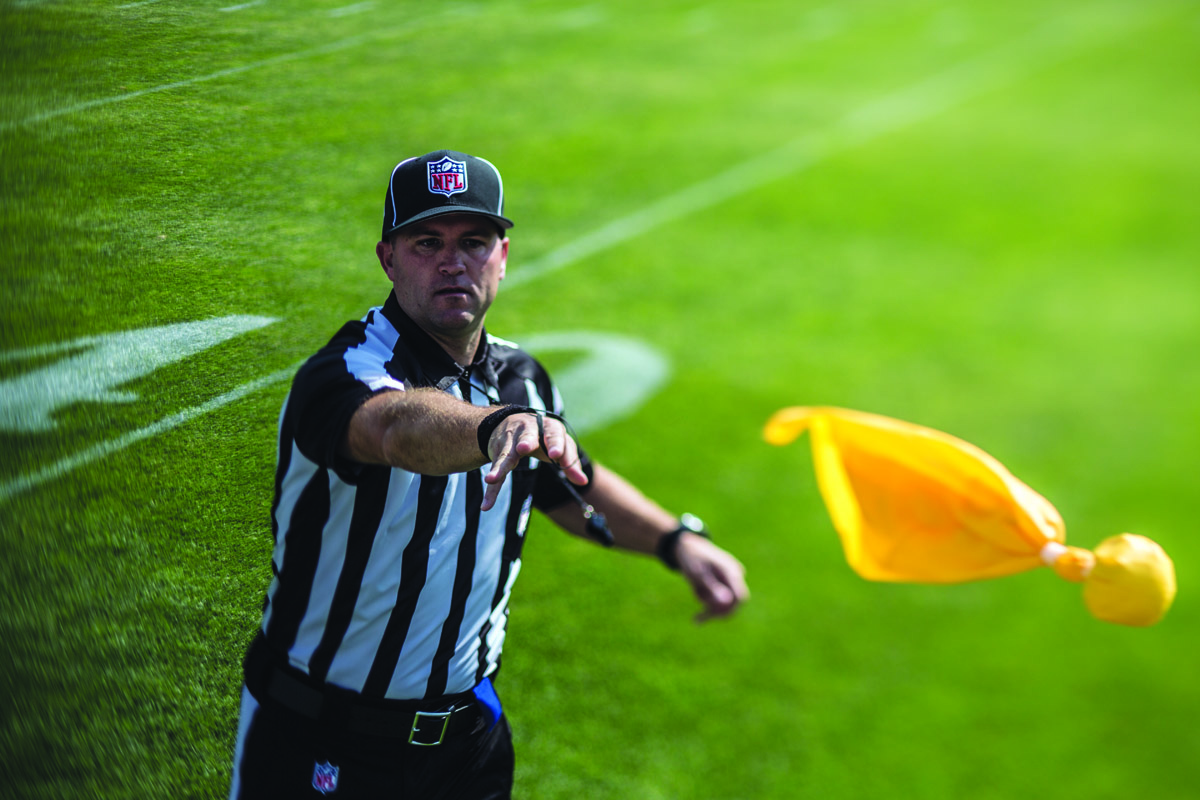 F94A8616_spot2 copy(SWOP).jpg
Brad Slade
F94A8642_spot3(SWOP).jpg
Brad Slade
»Snap Decision
While at BYU Longson also formed two partnerships that would change the course of his life.
The first was with Juliette Murri, whom he married in the Boise Idaho Temple just before their senior year. The couple formed a close-knit team that has been a blessing for the past seventeen years. They were eventually joined by their daughter, Jade, and their sons, Luke, Jack, and Titan.
"Juliette is incredibly supportive and has always been amazing," Longson says. "She is very even-keeled, so when things are
Page Breakstressful she has always been there to help our family mentally step up."
The other partnership was professional in nature. Longson decided to go into business with longtime friend and fellow Marriott School grad Matt Hawkins. The duo began a residential real-estate business, which focused on developing properties along Utah's Wasatch Front until business boomed, allowing the partners to spread north into Idaho.
Longson had it all: a growing family, a successful business venture, and exciting weekends on the football field. The wins seemed to keep piling up. And then the Great Recession hit like a linebacker blitzing blindside, crippling the housing industry.
"Matt and I had put our blood, sweat, and tears into growing our business for seven years," Longson says. "We had lots of good stuff going, and basically overnight it all went away. Values plummeted. I thought, 'I just spent seven of my professional high-earning years in this only to get it flushed down the toilet.' It was a real challenge."
Working with their lenders, Longson and Hawkins struggled to stay afloat, and it became clear that they needed to go in another direction.
As the two friends grappled with what to do, Hawkins read an article in Forbes about merchant cash advances, a process that provides working capital to small businesses as an advance on future sales.
Seeing an opportunity, the duo founded Snap Advances in April 2009 in Salt Lake City. But success didn't come easily. For two years neither partner took a salary or draw from the business. "There was one day in particular where Matt and I were sitting in our office by ourselves, and it felt very lonely. I vividly recall looking Matt in the eye and saying, 'I am down to two months of living expenses. Is this going to work?' It was a nail-biting time."
Shortly after that frank discussion, Snap Advances took a turn for the better, and the business has been scoring ever since. The pair's success spawned Snap Finance, a company that helps consumers who are not eligible for traditional financing qualify for purchases up to $2,500. Today Longson is the CEO of Snap Advances and a board member of Snap Finance while Hawkins plays opposite roles in both companies, which boast revenue in the hundreds of millions.
"Being an entrepreneur is challenging, scary, miserable, and awesome," Longson says. "I think every entrepreneur would say the same thing. It has been painful at times and wonderful at times, and you never know which one is coming."
»Season Opener
Streaming via ESPN into living rooms around the country this fall, Longson is kicking off the next season of his life. Amid the NFL's flying flags and howling whistles, Longson says his on-field goals mirror his business outlook: work hard to become the best at what you do.
"You don't have to be the brightest or most gifted person," he says. "Rather, if you recognize what your strengths are and put yourself in a position to capitalize on them, you give yourself a better opportunity to succeed."
That's a lesson he tries to carry with him everywhere, though there's usually just one thing on Longson's mind when his black Nikes hit the turf:
"Relax—and don't mess up."
_
Article written by Jordan Christiansen
Photography by Bradley Slade